[from WoWHead.com]
It's time for Noblegarden--a hunt for loot, this time in the form of brightly colored eggs! We join together to "share the joy of life and friendship" all the while looking for carefully hidden eggs and devouring tons of chocolate!

Noblegarden starts on April 17 at 11:00 AM and ends on April 24 at 11:00 AM. Brightly Colored Eggs have been hidden all across the starting areas for both Alliance and Horde players to discover. These eggs can contain chocolates which serve as a currency to buy seasonal goodies--sometimes they also have special prizes! Simply head out to one of your faction's starting areas, grab some quests, and get out there and hunt eggs. Maybe you'll even earn some achievements along the way!

New to 2017 is the

Noblegarden Bunny battle pet, sold for 100

Noblegarden Chocolate.
Hunting for Eggs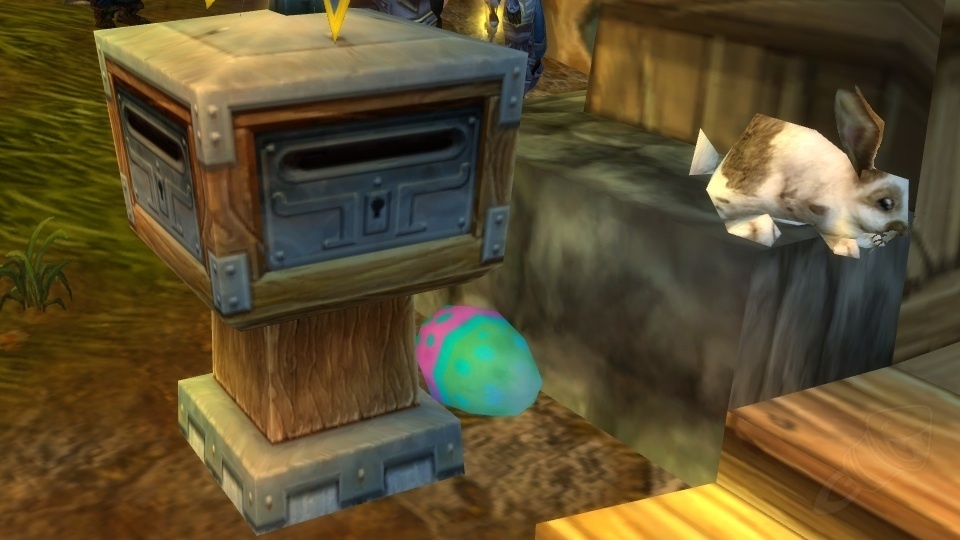 Brightly Colored Eggs
Players will be scurrying to hunt down Brightly Colored Eggs that spawn hidden in the starting areas of Azeroth:
Eggs can be found only in the starting areas. They may be crowded, but here are some tips to making your egg-hunting go smoothly:
Set your Environmental Detail and Ground Clutter settings down low, and zoom out. This will help you see eggs spawn before environmental objects like bushes or crates do.

Play around with camera angles--this will help you click on eggs even if you can't see them.

Grab speed boosts so you can zip around between spawn points faster.

Azure Watch is considered to be the best place for the Alliance due to the frequency of spawn points and the out of the way location. Get to the Exodar by taking a Mage Portal, or the portal or boat from Darnassus.

Falconwing Square is considered to be the best place for the Horde due to its straightforward layout. Get to Silvermoon by taking a Mage Portal, or the portal from the Undercity.
Opening the eggs contains

Noblegarden Chocolate which is used to purchase many Noblegarden goodies (see section below). You can also obtain these vanity items straight from the eggs, which can save you

Noblegarden Chocolate.

In the process of looting eggs, you can turn into

Noblegarden Bunny, which is needed for

Hard Boiled. More details in the Achievements section of the guide.
Painted Eggs
In 2015, you can help organize your own egg hunt with eggs from Noblegarden Vendors:
All of these eggs, when placed on the ground, look like the same Painted Egg. You cannot tell which egg contains the pricey 900.

A fun idea for an in-game event is for one player to hide all the eggs, invite friends to find them, and whoever finds the egg containing 900 first wins the egg hunt.

If you are making your own egg hunt, you can carry up to 20

Poorly-Painted Egg, 5

Intricately-Painted Egg, and 1

Magnificently-Painted Egg in your bags at once.
Ji-Kun Eggs
While not technically collectible eggs, Ji-Kun's eggs resemble

Brightly Colored Eggs this week too. Ji-Kun is the 6th boss in Throne of Thunder and can drop

Clutch of Ji-Kun on Normal or Heroic difficulty.


Noblegarden Goodies
Noblegarden Vendors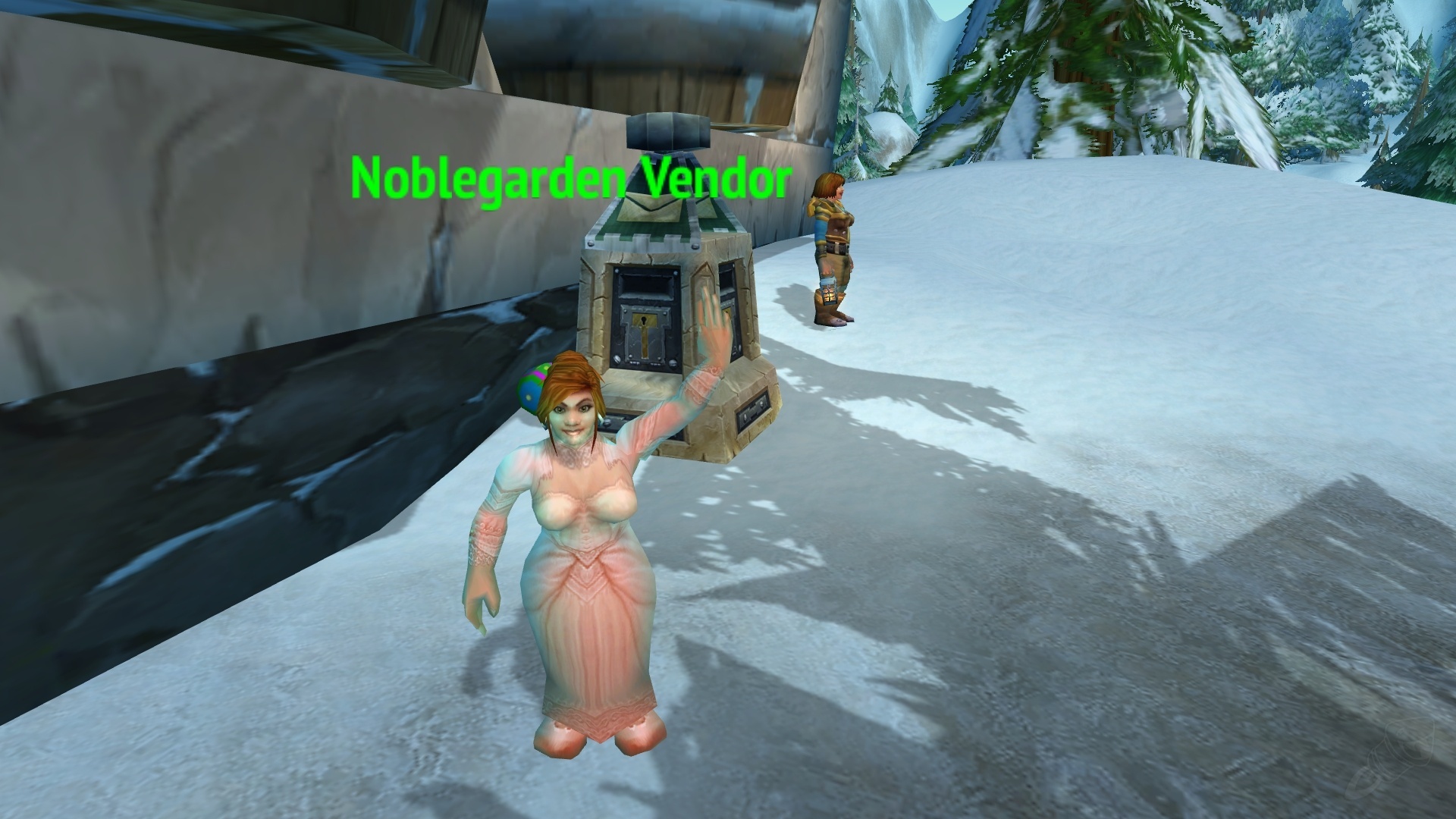 Noblegarden features a small assortment of festive items which can be purchased from a Noblegarden Vendor or Noblegarden Merchant (found in one of your faction's starting towns) in exchange for

Noblegarden Chocolate
. Or, you may get lucky and find one or more of these items while you're out hopping around for eggs!
Here are the items you can buy with

Noblegarden Chocolate
s:
Please note that unfortunately your

Mage
will have to be at least level 60 to purchase

Tome of Polymorph: Rabbit
.
The main item players will be collecting from the

Brightly Colored Egg
are used as currency for all Noblegarden vanity items:

Noblegarden Chocolate
.
These will be in nearly every egg. Sometimes, instead of chocolate, an egg will contain an item such as

Spring Rabbit's Foot

.

This means it's generally best to keep farming the eggs until you have enough chocolates to buy every item you want from the vendors, just in case you get lucky and get a valuable item or two while collecting eggs.

You should also expect to collect a lot of them; they are not only a currency used to purchase items from Noblegarden vendors, there are also achievements for actually consuming quantities of the chocolates.
SEE THE FULL GUIDE AT WOWHEAD.COM